Not sure what to buy?
ASK RODNEY
Angel Stainless Steel Juicer 8500
$2,177.00 $2,402.00
This product ships within the same or following business day.
Upgraded model with improved motor, gearbox, cooling system, safety sensors and control panel.
 NOTE: Same as US model called Premium Deluxe
Anti-jamming system by self-adjusting speed control when overloading.
Automatic reverse function when jamming.
Automatic cooling system when overheating inside the juicer.
Automatic self-controlling motor thermal sensor.
Newly designed main control board.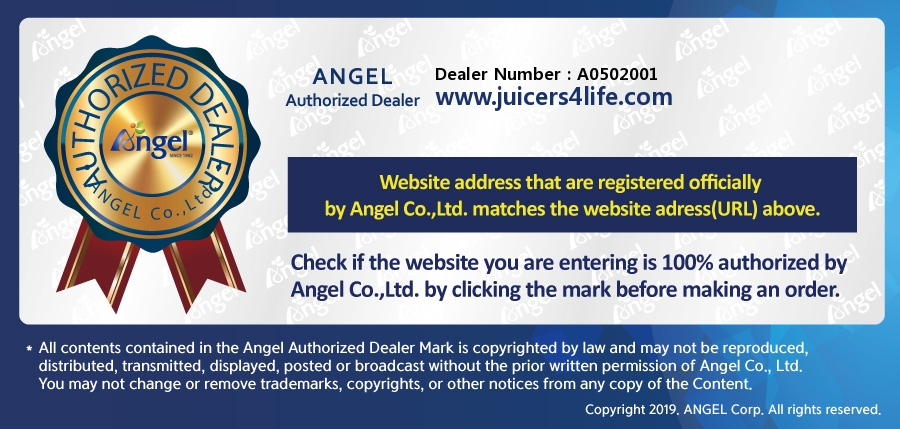 STAINLESS STEEL JUICING POWER!
Made for you who are 100% serious about your nutrition.
The Angel 8500 will easily make great-tasting and super nutritious juice out of just about any produce.
From carrots and apples to wheatgrass, leafy greens, herbs, sprouts, and even seeds, the Angel Juicer is the ideal machine to handle the toughest juicing jobs.
HEAVY DUTY PRECISION ENGINEERING FOR BETTER JUICE
The all stainless steel body of the Angel is a master crafted, hand-built masterpiece. With its surgical-grade stainless steel (SUS-316) twin gears running at 3 HP grinding force, the Angel can crush cellulose fibres, breaking up individual cells of vegetables and fruits to extract nutrients locked deep inside.
The result is a deeper, richer colour, as well as a sweeter, more full-bodied flavour of the juice.
The powerful twin gears also make the Angel 8500 the most reliable seed juice extractor in the world.
Difference between Food Grade and Surgical Grade stainless steel: 
FEATURES OF THE ANGEL 8500
Chemical Composition of Stainless Steel Alloy
SUS-304(Food grade) : Chromium 18%, Nickel 8%
SUS-316(Surgical grade) : Chromium 16%, Nickel 10%, Molybdenum 2%, SUS-316 surgical grade stainless steel is more resistant to sea salt, sea water and de-icing salts.
Above two kinds of stainless steel grades are safe, not leached out, not reacted with food, not rusted as same as your stainless steel saucepan, stainless steel pot.
EASY TO USE
If juicing is a hassle, chances are you won't do it very often. The Angel 8500 is thoughtfully designed, simple to clean and easy to use:
3-Step Assembly/Disassembly
The clever 'push down' front clamp allows for quick and simple maintenance.
No Screen Filter Change
A single three-stage screen handles all fruits and vegetables. No more changing of screens!
Automatic Pressure Adjustment
No need to manually adjust juicing pressure. The Angel 8500 adjusts itself to the type of produce in order to maximimize the quantity of juice.
Automatic Removal of Excess Produce
If you feed produce too fast any juicer may get clogged. The 8500 cleverly detects overload automatically and will revert the gears to dislodge any jammed produce.
Continuous Juicing
The impeller press system of twin gears is the perfect system for continuous juicing. Use as much juice as you want in one single batch!
These smart features make the 8500 one of the most user friendly juicers on the market in Canada.
HIGHER JUICE YIELDS
The ultra-precision 2-stage twin gear system guarantees the maximum extraction of juice. The pulp that results is very dry - the ultimate measurement of juicer efficiency.
QUIET OPERATION
The unique cooling system of the Angel 8500 results in less motor heating and strain. In combination with the slow and gentle grinding of the produce, this is one of the most quiet juicers available.
NO HEAT BUILD UP
The crushing of produce is done using very slow grinding, which generates no heat in the process. Keeping heat generation to a minimum is absolutely critical because heat leads to oxidation of vital nutrients and destruction of active enzymes. At only 86 RPMs, the Angel is the slowest grinding twin gear juicer on the market.
BONUS GIFT INCLUDED
Stainless Steel Juice Collecting Bowl ($30 value).
ANGEL 8500 SPECIFICATIONS
Electric Voltage/Frequency : AC 120 Volt / 60 Hz.
Electric Power (Motor) : 180 Watt, ¼ HP
Grinding Force : 3 HP
RPM(Twin Gear) : 86 rpm
Chute Opening : 1.7 inches
Twin Gears : 8+3/8 inches Long x 2+3/8 inches Diameter
Unit Weight : 20.8 Lbs
Unit Dimension : 19+1/2 L x 7+3/4 W x 10+1/2 H (inches)
Shipping Weight : 28 Lbs
Shipping Dimension(outer box): 22 L x 10+1/4 W x 14+1/4 H (inches)
Twin Gears : Antibacterial, Solid Stainless Steel (SUS-316) Gears
Automatic Overload Detection: Easily clears the foods if overloaded or jammed
Automatic Overheat Sensor: Automatic thermostat prevents the motor from overheating
Switch : Soft touch switch, Start-Off-Reverse
10 Year Household Warranty: Motor, Twin Gears, Switch Panel, PC Board, Scraper, Fan, Power Cord, Screen Housing Cover.
1 Year Household Warranty: Screen Housing, Cleaning Brush, Wooden Pusher, Pulp Collector, Juice Tub, Fuse, User's Manual. 
Quick Facts
| | |
| --- | --- |
| | Juice: Wheatgrass, Leafy Greens, Fruits |
| | Powerful |
| | Easy to Clean |
Specifications
Juicer Type
Masticating Juicer
Finish
100% 316 Stainless Steel
Speed
86 RPM
Motor
3 HP
Weight (lbs)
26.45
Dimensions
20.23" W x 7.51" D x 10.9" H (514mm W x 191mm D x 277mm H)
Method of Extraction
3-step multi stage pressurized extraction
Features

Antibacterial, Stainless Steel Twin Gears
3 Stage Screen System
Continuous Juicing with Automatic Pulp Ejection
Super Quiet Operation
Automatic Overheat Sensor
Heavy Duty Construction

Automatic Retraction
Supported
Warranty
10 Year Warranty