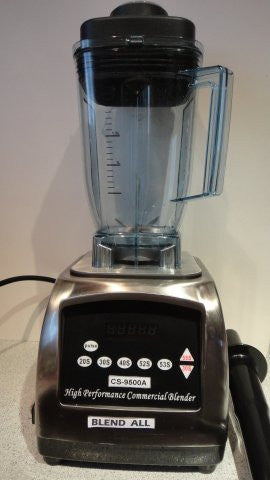 Not sure what to buy?
ASK RODNEY
Blend All Blender
$338.00 $451.00
This product ships within the same or following business day.
BLEND ALL is a new, unique and superior blender with a dozen advantages over VM & BTec.
We now have the solutions to the most frequently asked question. Which is better Vitamix or Blendtec? The answer is: BLEND ALL. Let me explain. The main difference is in the jar and cutter. BLEND ALL has decided to give you both jars. So now you have the Vitamix's 2 Litre Jar with the 4 blades replaced by giving you a 2.5 litre jar with 6 blades, giving you a third more cutting action. The Blendtec's Jar with the 4? blade is replaced by a 1.5 liter jar with a 4? blade. This can take care of all the dry grinding as well as the wet mixing that the Blendtec is known for. This somewhat smaller jar can be used also for nut butters, flour grinding, babyfoods, guacamole, soups etc. Check out all the fifteen advantages below, including the only all metal body in this high quality range.
Advantages that you will love and appreciate:
Power 1800 Watt (VM 1390 watts) (BTec 1500 watts)
Amps 19.5 (VM 11.5 Amps) (BTec 13 Amps)
Motor: AC (not DC)
HP 2.57 (VM1.85 HP)
37 000 rpm allows you to make the finest smoothest drinks. (BTec 28000 rpms)
8 Programed stations Each program cycles through a variety of speeds, depending on the recipe
Pulse Button. It allows you to hold the bottom as long as you wish.
Each program turns off by itself (no waiting around and guessing when finished)
Digital Display shows time remaining
Aluminum Base not plastic (looks like Stainless Steel) (VM & BTec are both plastic)
2 Jars: 2.5 L jar with 6 Blades Plus 1.5 L Jar with 4" Hammer Blade for both Dry & Wet mixing
Blade Style: 6 cutters as opposed to 4. 33% more blending power.
Safety: will not run without jar on the motor
Fits under the counter with reversed lid (VM must store lid elsewhere) 1.5 l is no problem it is lower
30% cheaper
Features:
Complete Speed Control (Ikons indicate functions & seconds of program remaining)
Vivid Icons
New Sleek Design
Cleans Up in Seconds
Versatile Functionality
2 Jars - 2.5L 6" Blade & 1.5L 4" Dry & Wet Blade
Blend Cycle Icons More than Just Pretty Pictures - The control surface features illuminated, easy to read, universal icons that enable effortless selection of our signature blend cycles. These cycles are optimized to deliver great blends with a single touch. Even the shortest cycle of 20 seconds cycles through a program with speeds changing from slow to high again and again, aloowingthe food to drop down to the blade for better mixing. Other blenders make you first turn it on, then dial to 10 and then to high. In addition you have to wait and guess when it is time to turn it off.
Ease of service: Juicers4life a division of HEALTH SERVICE CENTRE Inc will look after you right here in Toronto, just like we do for the ANGEL JUICER and the GREENIS, JUICE ALL MULTI VERT.
Full one year Warranty. We also do the service on this fine blender.
We are the Canadian distributor for these fine appliances. We have been in business since 1960.
Contact us for Distributor pricing and quantities.
Related products