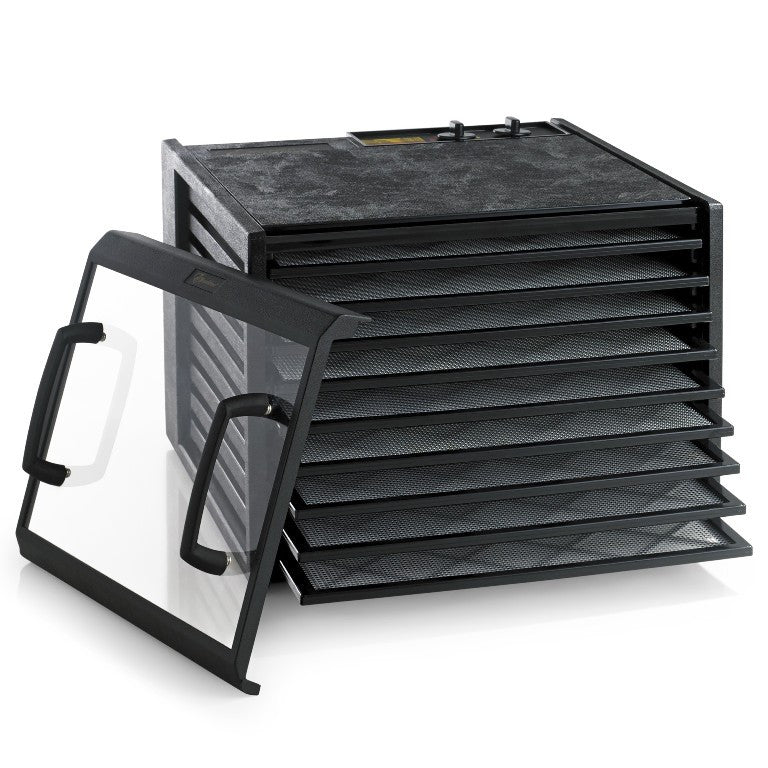 Not sure what to buy?
ASK RODNEY
Excalibur Food Dehydrator 3926TCDB Black with Clear Door
$376.00 $413.00
This product ships within the same or following business day.
Excalibur Food Dehydrator 3926TCDB Black with Clear Door
Set the food dehydrator to run from 1 to 26 hours. The unit will automatically shut-off after set time is completed.
Ideal size for large families, large gardens, vegans and raw food enthusiasts.
Model 3926TCDB - 9 Large Trays of 14" x 14"
This the biggest and best there is!
7" fan, 600 watts and an adjustable thermostat.
Built-in on/off switch.
26-hour Timer.
15 sq. ft. of drying area.
ALL BLACK Model with a CLEAR Door.
 
Includes 9 Flexible polyscreen tray inserts.
Unit Dimensions: 12 1/2"H x 17"W x 19"D
10 Year Warranty.
Upgraded electrical components.
Includes the Preserve it Naturally Book! A value of $24.95.
This is the New 4th Edition, updated layout.
8 1/2" x 11", 192 pages
Excalibur wrote and photographed this beautiful all-color book: This is THE book on dehydrating! Everything you wanted to know about dehydration and more can be found in this informative book.
Chapters on fruits, vegetables, meats, fish, herbs, nuts, grains, dairy products, crafts, cake decorating, potpourri, sachets, macrame beads, dough art, wreaths, raw and living foods and much more.
Recipes for raw foods, hot/cold appetizers, soups, salads, main/side dishes, sauces, beverages, desserts, snacks, trail mixes, breads, and more.
Includes the Dehydration Guide! A value of $6.95.

Handy 5 1/2" x 8 1/2" 28-page booklet is a complete guide to dehydrating. Packed with food preparation tips, reconstitution, complete 'how to' drying guide for 50 fruits and vegetables plus fruit rolls, jerky, yogurt, living foods, fruits & more. Illustrated. Soft cover.
The Excalibur ® is the finest dehydrator made. It is the ONLY machine with the unique Parallexx™ Horizontal Airflow Drying System. Hundreds of thousands of gardeners, Raw Food enthusiasts, health-minded folks, and families say,
"We love the Excalibur ®!"
Compare our prices to the costs associated with purchasing the same Dehydrator from the U.S.A. (adding the exchange rate, customs and/or brokerage fees, duties & higher shipping charges) & you'll find our prices very reasonable! The Best Price Everyday.
 Leaders in Dehydration Technology Worldwide
Why Dehydrate ….
Save Money- Buy food on sale, in bulk, or in season and save 50% or more
Great taste- All Excalibur models are a "flavor concentrators" each bite is a mouth watering burst of flavour.
Easy- Wash, slice and dry. Much easier than canning or freezing
Quick- Excalibur dries from 2 to 10 times faster than most other dehydrators 
Space Saving- Dried Foods Reduce in size and store easier than canned or frozen
Healthy- Drying preserves nutrients and enzymes/ no additive or preservatives
Why Excalibur…
Only Excalibur offers the Turbo Charge Parallexx® Drying System. Millions have re-discovered the benefits of food dehydration. Healthy, nutritious and tasty food at a huge savings. Excalibur makes drying easy. For centuries food has been dried in the sun or open air- a lengthy, messy and difficult process inviting contamination and spoilage. With the introduction of electric dehydrators the drying process was improved. But most manufactures offered round stackable models with a heating unit in the bottom. Excalibur pioneered a rear-mounted equipment package allowing horizontal or parallel air flow…The Parallexx System-- and Continues to be the worldwide leader in dehydration technology and innovation. Every Excalibur Model has a combined knowledge of over 35 years of dehydration research and development, making Excalibur Dehydrators the Best in the World.
Features of All Excalibur Models---
The Ultimate in Versatility- Removable door and trays – This is a MUST- in order to use every other tray or no trays at all, allowing you to dry large items, make yogurt, raise breads, dry crafts, bloom rice, dry sprouted breads, dry pie crust and more. You do not have trays that need to be taken apart to check drying or add more food. 
Almost unbreakable, FDA approved for Food Contact trays. Inserts make cleaning a snap.
Controlled environment for a wide variety of uses. 
24 page recipe book included with each unit 
Adjustable Thermostat 105 - 165 degrees F / 40 - 74 degrees C
Excalibur Parallexx™ System Advantages:
Complete drying system in rear (includes thermostat and fan).
Easy to clean... Spills fall on seamless bottom.
Horizontal drying provides even drying, eliminating tray rotations. Fast drying...
Adjustable thermostat allows perfect drying every time.
Square design increases drying area "25%" with no holes in center of tray.
.. Trays can be removed to expand drying chamber.
Controlled environment for a wide variety of uses, i.e. making fruit roll-ups, trail mixes and drying flower arrangements, herbs, art and crafts, photos.
Excalibur's Economy Series
Models 2400, 2500 & 2900
With 35 years of manufacturing excellence, the Excalibur Food Dehydrator sets the industry standard for design, quality, and dependability. The Parallexx™ design, with a temperature controlled, fan forced, horizontal drying system mounted in the rear is the same features found in Excalibur's NSF Commercial Dehydrators ...in an affordable home unit.
Excalibur the first name in food dehydration presents our Economy 2000 Series, featuring the exclusive turbo charged Parallexx™ Drying System.
The 2000 Series offers the same versatility, and quality construction as our Top of the Line units—at an affordable price.
The Ultimate Food Dehydrator
Excalibur 3000 Deluxe Series, D500S & D900S Models
Models 3500, 3900, D500S & D900S
Excalibur, the first name in food dehydration presents our Top of the Line Heavy Duty Series, featuring the exclusive turbo charged Parallexx™ Drying System.
This Series offers the ultimate versatility, dependability and quality construction Excalibur is known for. They are designed to last over 20 years and built to the highest specifications with upgraded electrical components and innovative plastics. This series also comes with a standard 10 year limited warranty.
Features of the 3000, D500S & D900S Excalibur Models
Upgraded Electrical Components:
-Higher Cycle Life Thermostat
-Higher Duty Rating Heating Element
-Heavy Duty Motor
-Higher Grade Innovative Plastic Components
-10 year Limited Manufacturer's Warranty
Models 3526T & 3926T include an integrated 26 hour timer.
Models 3526TCD & 3926TCD feature a Clear Door.
Models D500S & D900S include an integrated 26 hour timer and stainless steel outer panels.
Models D500SHD & D900SHD include an integrated 26 hour timer, stainless steel outer panels and stainless steel drying trays.
Models D500CDSHD & D900CDSHD feature a Clear Door.
Model EXC10EL is a unique, top of the line Dehydrator. All-Stainless Steel appliance - Exterior, interior, fan, and trays. Armored Glass Doors. 48-Hour Timer. Digital Display. More drying space-15" x 15" x 10 Trays. 10-Year Warranty. Features Excalibur's patented Parallex™ Horizontal Air Flow and Hyperwave™ Fluctuation Technology.