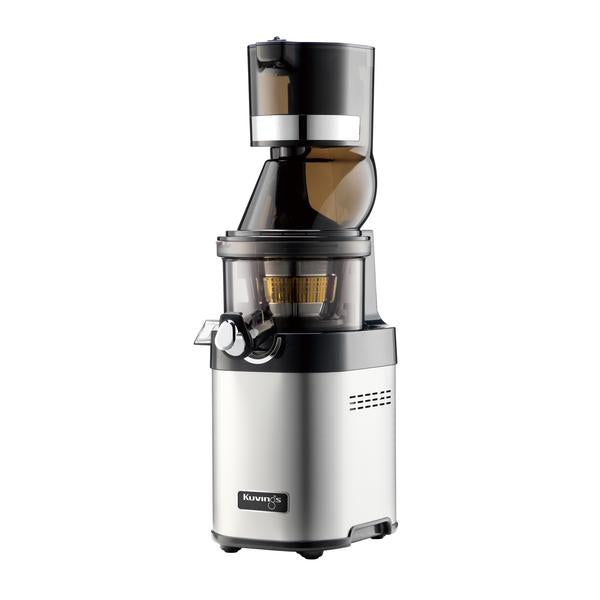 Not sure what to buy?
ASK RODNEY
Kuvings Whole Slow Juicer Chef CS600 - Commercial
$1,501.00
This product ships within the same or following business day.
Kuvings Whole Slow Juicer Chef CS600 - Commercial
The world's first commercial vertical whole fruit/vegetable juicer. The CS600 features a larger than industry sized 88m flip gate offering a wide feed chute to input your fruits and vegetables. With its sleek design, CS600 comes with an extra top set to allow a quick change between recipes.
The Kuvings Whole Slow Juicer Chef CS600 is a commercial grade cold press juicer with a 3.5 inch diameter feed chute to make juicing faster and more convenient.  This cold-press juicer runs at 60 revolutions per minute to gently extract vitamins, minerals and phytochemicals from fresh fruits and vegetables.

The all-new chef CS-600 juicer motor can be used for up to 24 hours straight as it has a heavy-duty industrial grade motor.  Home juicers normally have a 30 minute duty cycle, so this is 48x longer!

While the Kuvings Whole Slow Juicer CHEF is a commercial grade juicer, it is NOT CERTIFIED for NSF Sanitation standards.  Some health departments may require a NSF (or equivalent)  for you to be able to use this juicer legally in a commercial establishment.  Please check with your local health department before purchasing this juicer to ensure you are able to use it at your business in your city.

Here are the features that set the Kuvings Whole Slow Juicer Chef Apart from the competition:
Commercial Motor - 24 hour duty cycle
    3.5 inch flip gate - wide feed chute
    Three in One Functions (Juice, Smoothie and Sorbet)
    Stylish & Slim Design for Cafes or Juice Bars
    Slow Squeezing Juice Extractor
    Rotating Cleaning Brush for Easier Cleaning
    Convenient Smart Cap
    Saftey-Lock & Cooling System
    Built-in low-noise design

The Highlights of the CS600 Chef  include:

Largest 3.5 inch Feed Chute 3.5 inch flip gate - wide feed chute
From the company that invented and patented the wide feed chute slow juicer, introduces their largest feed chute yet that saves time when feeding produce into the juicer.

Useful with Slim Design Space Saving
The new slim design of the Kuvings Whole Slow Juicer chef has a smaller footprint than other commercial juicers to save valuable counter space.  The Translucent hopper allows you to see entire apples being juiced right in front of your eyes.

Fresh Juice Fresh Juice
The patented J.M.C.S. (Juicer Module Comprising System) enables balanced extraction of fruit flesh and juice.  By minimizing layering, fresher and richer juice can be produced.

Easy Clean Up Clean Up
After juicing, you can easily clean up trace residues in the juice strainer. Put the rotating cleaning brush and the juice strainer together and twist them against each other.

Easy to use Smart Cap Convenient
The Smart Cap enables easy cleaning after continuous juicing and prevents leaking while pouring juice in a glass. Moreover, it helps more than two kinds of ingredients mix together for richer and various customized juices.

Low Noise Design Powerful
World's Strongest Brushless Juicer Motor..  This industrial grade motor runs at a low speed which is able to process fibrous fruits and vegetables.  The unit stays cool, quiet and stable thanks to the slow processing speed.  It can be used for up to 24 hours straight.

Satety Lock System Quiet
Using its built-in low-noise design, with a slow-rotating, special deceleration motor, the product generates less noise and vibration.

Includes a 120+ page recipe book Includes Deluxe Recipe Book to help you to get healthy
The Kuvings Whole Slow Juicer Chef is the only cold press juicer that comes with a deluxe full-color recipe flip book with dozens of juice recipes as well as other recipes you can make using the Kuvings Whole Slow Juicer Chef.  It contains 120+ full color pages of bright pictures and recipes to help you get on the road to better health.

Here are the features that set the Kuvings Whole Slow Juicer Chef Apart from the competition:


    Commercial Motor - 24 hour duty cycle
    3.5 inch flip gate - wide feed chute
    Three in One Functions (Juice, Smoothie and Sorbet)
    Stylish & Slim Design for Cafes or Juice Bars
    Slow Squeezing Juice Extractor
    Rotating Cleaning Brush for Easier Cleaning
    Convenient Smart Cap
    Saftey-Lock & Cooling System
    Built-in low-noise design