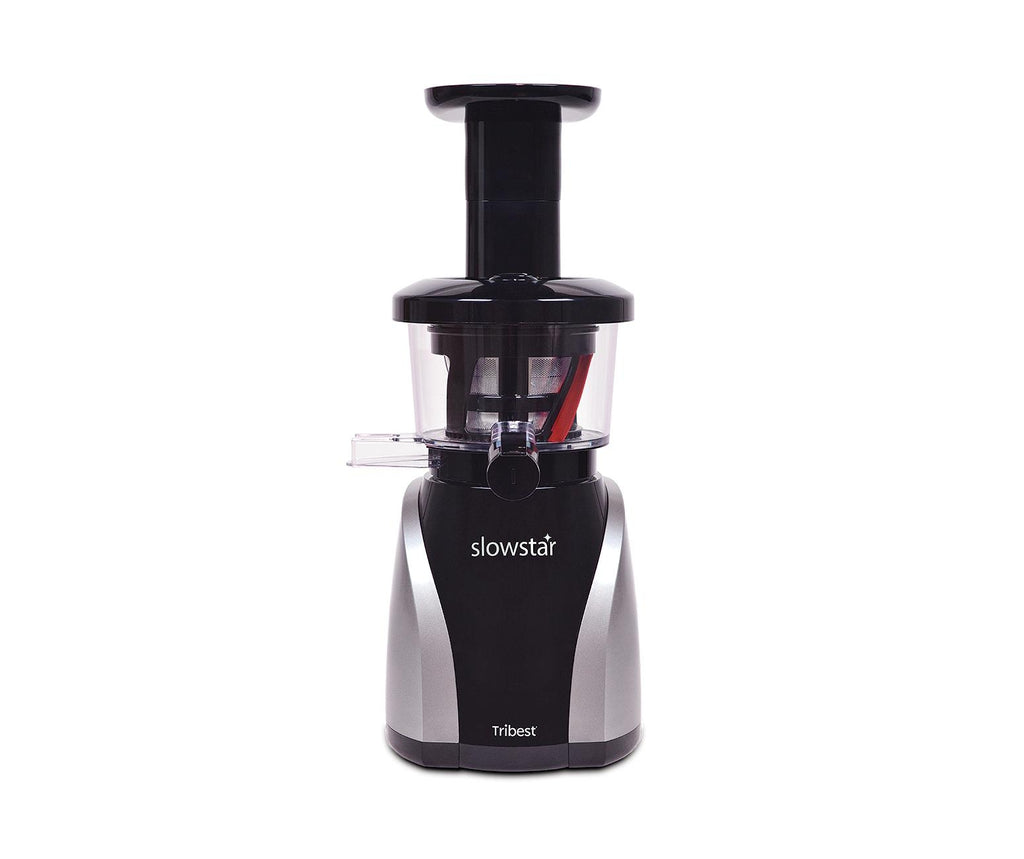 Not sure what to buy?
ASK RODNEY
Tribest Slowstar Vertical Juicer & Mincer SW-2020
$479.95 $599.95
This product ships within the same or following business day.
The Slowstar Vertical Slow Juicer and Mincer has a low speed of 47 RPM with a 200 Watt motor and 3-stage speed reduction gears that produce the equivalent amount of torque as a 9 HP motor. The Duoblade™ Double-Edged Auger creates a double cut, doing twice as much work compared to a traditional auger. The low speed preserves the freshness and quality of your juice due to friction and heat. Not only can you juice with the Slowstar®, you can turn it into a multi-purpose tool, just replace the top of the machine with the Mincing Attachment to start mincing your ingredients to use in your favorite recipes.
The Power of the DuoBlade

Unlike other slow juicers, the Duoblade double-edged auger does twice the work of single edged augers. The Duoblade rapidly cuts and crushes your produce while producing higher yields with less pulp in the juice. It's also made of Ultem, which is 8 times stronger than cheap plastics used in other slow juicers.

Higher Torque

The Slowstar's powerful 200 Watt motor and 3-stage speed reduction prevent jamming by producing 30 ft. lbs. of torque, which is more than 2-4 times the crushing force produced by other slow juicers. At such a low RPM, it's critical that enough torque is generated to crush through hard vegetables such as carrots, or fibrous vegetables such as celery. Not only does higher torque prevent jamming and unnecessary delays, it reduces overall stress on the machine and takes 3 times less amount of time to juice your favorite recipes.

Whether you are juicing your favorite fruits and vegetables or using the Mincing Attachment to make sauces, sorbets or nut butters, the Slow Star 2000 is the perfect 2-in-1 solution to get the most our of your produce.

Most importantly, this juicer will get you the maximum amount of enzymes, vitamins and minerals from your juice, simply because it grinds the produce at a very low 47 RPM and with a power equivalent to 9HP. Impressive!

COMPACT DESIGN: The vertical design gives you a juicer with a small footprint but BIG performance.

HIGHER JUICE YIELDS: The pulp that comes out of this powerful juicer is very dry, which tells you that the maximum amount of juice has been extracted.

JUICE SPOUT CAP: The clever juice spout cap allows you to mix your drinks inside the juicer and it makes cleaning easier. The juice cap also makes the SlowStar 2000 terrific for making delicious nut milks!

STRINGY VEGETABLES? NO PROBLEM!: Many upright juicers may have some problems juicing stringy vegetables such as celery without being clogged up. The SlowStar 2000 will easily juice WHOLE celery stalks with high yield.

HEAVY DUTY CONSTRUCTION: Only the highest quality materials have been used to ensure many years of great juicing.

NO HEAT BUILD UP: The single auger draws the produce down into the juicer at low speed to help retain maximum amount of living enzymes and the highest quality juice.

EASY TO CLEAN: Cleverly designed with few parts makes it a breeze to clean.

QUIET: The SlowStar 2000 squeezes very slowly rather than grinds, which keeps noise to a minimum.

TRIBEST SLOWSTAR 2000 SPECIFICATIONS

47 RPM Rotation Speed.
Duoblade, Double-edged Ultem Auger
Juicing and Mincing Attachment
3 Stage Speed Reduction Gear with 200 Watt Motor
Torque power equivalent to 9 HP motor
100% BPA-Free Housing and Casing
Virtually BPA-Free Ultem Auger and Screen
Quiet Operation
Includes 2 cups, and stainless steel juice pulp sieve/strainer
10 Year Warranty on ALL parts, except for normal wear and tear.