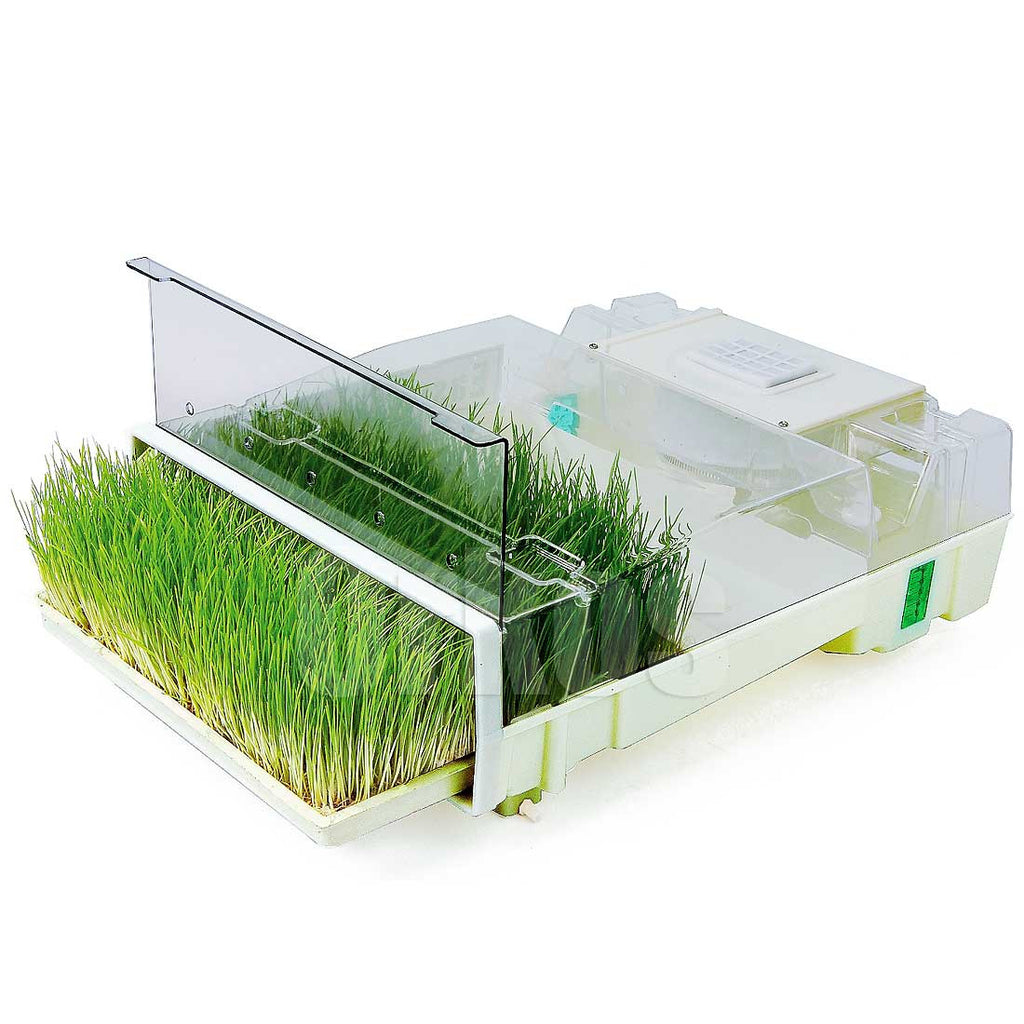 Not sure what to buy?
ASK RODNEY
EasyGreen Sprouter
$195.00 $225.00
This product ships within the same or following business day.
The EasyGreen is about as easy as it gets to maintain a daily harvest of fresh live organic sprouts.  Taking the mess and hassle out of sprouting.

If you are after an easy automated way of getting fresh sprouts into your life and are sick of the process of pre-soaking and rinsing (5 or 6 times a day) then this sprouter is a great investment for you and your family.


The EasyGreen will Soak, Rinse, Mist, Oxygenate and drain the sprouts automatically so you don't have to.  Just add water, seeds and go about your day letting the machine take over. 


                                                                             The Easy Green
is the only Sprouter on the market that can grow with your needs (stack up to 6 units).  The Easy green can be set up even with just one unit to produce a perpetual harvest of fresh sprouts every day. (2-4 cups)

Grow wheatgrass, sunflower, alfalfa,
red clover, broccoli, buckwheat, beans, peas, virtually any seed you can imagine right in your own kitchen!

Unique automatic disinfecting cycle makes it simple to keep high sanitary conditions within the machine.  Typically only commercial growers have such options.

Using our 96 activation timer makes it easy to adjust your machine for a variety of climate conditions.






GROW WHEATGRASS AT $0.50 A TRAY!
BETTER THAN AN ENERGY DRINK
Wheatgrass shots deliver between 80 to 100% of your daily nutritional value and the 20 minute breakdown into the bloodstream boosts of energy similar to caffeine. Wheatgrass is much healthier than caffeine, does not suppress neurotransmitters in the brain, and will never stain teeth.
"I try to have a shot of wheatgrass 3 times a day with the EasyGreen because within about half an hour I feel a kick." - Josh Chapin
"It is interesting to note that there is not a single case recorded in which either improvement or cure has not taken place." - Dr. Gurskin
GOOD FOR ATHLETES
The starch of the wheat berry is stored energy which when converted to simpler sugars is a quick energy source. It has 92 of 102 vitamins! One ounce of juice equals two pounds of produce nutritionally, it naturally shuts off the appetite in the brain.
ANTIBIOTIC
Science has proven that wheatgrass will arrest growth and development of unfriendly bacteria.
Boosts Your Blood
Chlorophyll (wheatgrass) aids in the rebuilding of blood count within 5-9 days
STOPS BAD BREATH AND BAD SMELLING SWEAT
Dr.F.Howard Westcott reported that when wheat grass is taken internally in adequate quantity, it reduces or eliminates offensive body and breath odors.
CLEANS ACNE
Wheat Grass remedies including: Itching and burning, ivy poisoning, weeping and dry exzema, insect bites or infection.
REDUCES SUNBURNS
Prevents Peeling and soothes skin when wheatgrass is applied directly or preventatively through wheatgrass shots.
FIGHTS ELECTROMAGNETIC RADIATION
The United States Army exposed guinea pigs to lethal doses of radiation. The guinea pigs fed chlorophyll-rich vegetables such as cabbage and broccoli had half the mortality rate as those fed non-chlorophyll diet.
NEUTRALIZES AND FIGHTS DANGEROUS CHEMICALS
IN DRINKING WATER
Dr. Earp Thomas found that an ounce of wheatgrass in a gallon of fluoridated water would turn the fluorine into harmless calcium-phosphate-fluoride compound. Used in wash water it adds softness to the face and hands. In the bath, it is most smoothing. It stops bleeding, itching, and helps sores and acne to heal.
LOWERS BLOOD PRESSURE
Dr. Theodore M.Rudolph says that the ability of Wheatgrass to combine with oxygen in the blood rushes through the blood and breaks down cholesterol.
CLEARS UP CONGESTION
Doctors R. Redpath and J.C.Davis found chlorophyll packs inserted into the sinuses had a drying effect, clearing up congestion, and gave immediate relief. Congested head colds were cleared up within 24 hours
Warranty
4 months on Electrical Mister(Only)