Not sure what to buy?
ASK RODNEY
Angel Stainless Steel Juicer 5500
$1,576.00 $1,726.00
This product ships within the same or following business day.
Upgraded model with improved motor, gearbox, cooling system, safety sensors and control panel.
 
Anti-jamming system by self-adjusting speed control when overloading.
Automatic cooling system when overheating inside the juicer.
Automatic self-controlling motor thermal sensor.
Newly designed main control board.
All Angel Juicers now come with a silicone ring around sieve to prevent leakage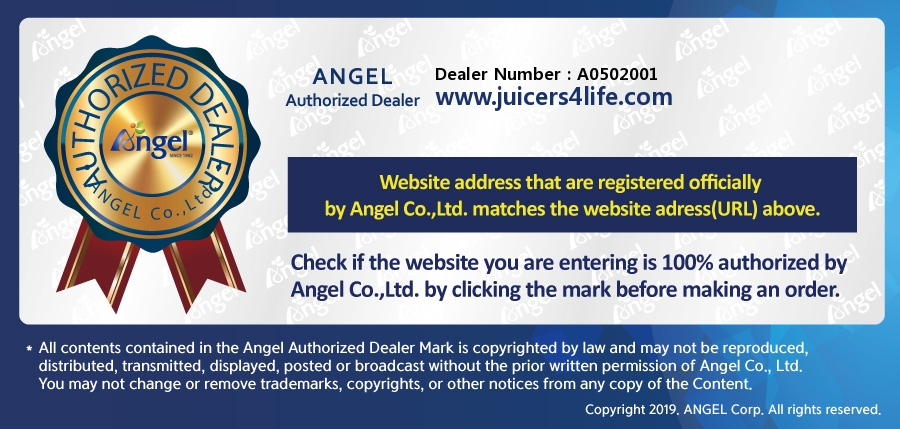 Juicers4life.com are the Exclusive Canadian Distributor for Angel Juicers. When you buy from us, you know you are buying direct from Angel Juicers in Canada. This means second to none customer service and knowledge on Angel products backed up by our leading warranty and Angel technical support team.

The Angel Masticating juicer can juice almost anything from carrots and apples to wheatgrass, our favorite leafy greens and seeds. It can even make soymilk, tofu, nut butters and frozen fruit sorbets with some of the added attachments that can be purchased separately.
 
The revolutionary, all stainless steel design (no plastic) incorporates a twin gear impeller press system that rotates powerfully at a low 82 rpm (the ideal speed) no heat or shock, while ensuring maximum enzyme and nutrient retention with minimal oxidation. Whether you are juicing for one person or for a whole family, the Angel Juicer is versatile enough for everyone.
 
The Angel features a three-stage twin gear system for efficient juice extraction. Stage one applies concentrated pressure to the fruits or vegetables. Stages two and three grind and continuously process the fruits or vegetables, producing very dry pulp and as a result - more juice. In addition to the three-stage twin gear system, the Angel's three-stage screen filters can maximize pure juice yield resulting in almost 20 to 30% more juice extracted compared to other juicers.
 
The Angel Juicer also has the easiest, simplest clean up compared to any other twin gear juicer or vegetable juice extractor. It is a high functioning machine that will certainly prove itself in this and other areas. Please closely look at every single part of the Angel Juicer. It is completely different from any other juice extractor. Every single inch is made of the highest quality material and created from excellence.
 
Super Angel 5500 Features:
Ease of Clean Up & Operation:
The Angel 5500 has a unique design with remarkable extraction power is easy and simple to use and clean. Its newly designed parts make clean up, assembly and disassembly a snap.

Antibacterial, Solid Stainless Steel Twin Gears:
The New Angel 5500 Juicer's twin impeller gears are made of the highest quality SUS-304 solid stainless steel. Other twin gears are made of plastics & weaker quality stainless steel.

All Stainless Steel Construction:
No plastic, nylon, lexan, or other polycarbonate materials come into contact with your food! The state-of-the-art stainless steel design is always easy to keep clean and hygienic!

86 Low RPMs:
The low rotation speed is ideal for creating the highest quality and most nutritious juice. The slower speed produces very little oxidation and heat, which keeps more enzymes intact. The New Angel 5500 Juicer is the lowest rpm twin gear juicer on the market! But just because it rotates slowly does not mean that it gets the job done slowly. The New Angel 5500 Juicer's method of juicing does not need high speed to juice quickly. Plus you get the benefit of higher juice yield and drier pulp!

3 HP Grinding Force:
The solid, surgical-grade stainless steel twin gears provide 3 horsepower of grinding force that allows it to break down tough plant cell walls and release the nutrients locked inside. The high pressure squeezing force makes it possible to juice strong fibrous, stringy fruits and vegetables quickly and easily. You'll enjoy darker, richer color of the juice and a sweeter, richer more full-bodied flavour.

2-Stage Twin Gear System:
For efficient juice extraction, stage one applies concentrated pressure to the fruit or vegetable. Stage two grinds and continuously masticates the fruit or vegetable creating very dry pulp and as a result - more juice.

Bigger Gears than the Green Power:
The twin gears in the New Angel 5500 are bigger and longer than any other twin gear juicer on the market. 

3-Stage Screen System:
The New Angel 5500's 3-stage screen system filters and maximizes your juice yield, resulting in 3 times the amount of juice extracted compared to other juicers.

Simplicity:
With the New Angel 5500 Juicer, there is no need to stop a juicing session to change screens for different types of food. A single three-stage screen handles fruits, vegetables, and leafy greens. There simply is no need for other screens.

No Pulp Adjustment Necessary:
The powerful heavy-duty motor always brings maximum squeezing force and produces the highest quantity of juice.

Continuous Juicing with Automatic Pulp Ejection:
The impeller press twin gear system enables continuous juicing without the need to stop to remove pulp. The dry pulp simply comes out the end of the juicer after all of the juice has been extracted.

Agricultural Chemicals and Toxic Substances:
The juicer's twin gears remove over 90% of agricultural chemicals and toxic substances from the surface of fruits and vegetables.

Super Quiet Operation:
The higher wattage motor with unique cooling system results in less strain on the motor, less heat build up, and increased durability.

Wide Range of Juicing Capabilities:
The New Angel 5500 Juicer will extract juice from almost anything from carrots and apples to wheatgrass and pine needles.

Versatility:
Make delicious soymilk, tofu, meat pate, frozen fruit sorbet, and even peanut butter!

Automatic Overheat Sensor:
A thermal protection device and anti-jamming automatic reverse offer safe use and peace of mind. The automatic motor thermostat prevents the motor from overheating.

6 Safety Devices:
Automatic Heat Sensor, Extra Rocker Switch, Internal Gear Protection, Reinforcement of Switch Panel, Double Protection of motor and Main Housing Unit, and Screen Housing.

Reverse Turning Safety Feature:
Blockages from overload or jamming can easily be cleared with the reverse action switch.

Fan Cooled:
The Super quiet cooling fan prevents motor overheating.

Drier Pulp:
The ultra-precision 2-stage twin gear system combined with the powerful heavy-duty motor bring the maximum juice extraction possible. You'll see the difference in the extremely dry pulp when compared to other juicers.

Heavy Duty Construction:
Hand-built, precision engineered using the highest quality grade stainless steel

Super Angel 5500 Specifications:
Electric Voltage/Frequency: AC 120 Volt / 60 Hz.
Electric Power (Motor): 180 Watt, 1/4 HP
Grinding Force: 3 HP
RPM (Twin Gear): 86 rpm
Chute Opening: 1.7 inches
Twin Gears: 8 3/8 inches Long x 2 3/8 inches Diameter
Unit Weight: 20.8 Lbs.
Unit Dimension: 19 1/2 L x 7 3/4 W x 10 1/2 H (inches)
Shipping Weight: 28 Lbs.
Shipping Dimension (outer box): 22 L x 10 1/2 W x 15 H (inches)
Twin Gears: Antibacterial, Solid Stainless Steel (sus-304) Gears
Reverse Turning Safety Features: Easily clear the foods if overloaded or jammed.
Automatic Overheat Sensor: Automatic motor thermostat prevents the motor from overheating
Switch: Soft touch switch, Start-Off-Reverse
Quiet Operation: Powerful motor with specially designed fan cooling system
Juicing Capability: Fruits, vegetables, leafy greens, wheatgrass, sprouts, herbs
Versatility: Soy Bean Juice, Tofu, Frozen Fruit Sorbet, Nut Butters
Continuous Juicing: Impeller press system of twin gears enables continuous juicing
Pulp Ejection: Automatic, continuous by impeller press system of twin gears
Machine Operation Time: Suggest 10 Minutes Rest per Every 30 to 40 Minutes of Use
Warranty: 10 years on both motors and parts (excluding "Wear & Tear" items)
Please note this is not the commercial model. Commercial use (use in a business) of this product shall void the warranty.

Free Stainless Steel Juice Bowl included with Juicer - $35 value
Quick Facts
| | |
| --- | --- |
| | Juice: Wheatgrass, Leafy Greens, Fruits |
| | Powerful |
| | Easy to Clean |
Specifications
Juicer Type
Twin Gear Juicer
Finish
100% 304 Stainless Steel
Speed
86 RPM
Motor
3 HP
Weight (lbs)
26.45
Dimensions
20.23" W x 7.51" D x 10.9" H (514mm W x 191mm D x 277mm H)
Method of Extraction
3-step multi stage pressurized extraction
Features

Antibacterial, Stainless Steel Twin Gears
3 Stage Screen System
Continuous Juicing with Automatic Pulp Ejection
Super Quiet Operation
Automatic Overheat Sensor
Heavy Duty Construction

Automatic Retraction
NOT Supported
Warranty
10 Year Warranty