Not sure what to buy?
ASK RODNEY
GREENIS, JUICE ALL MULTI VERT JUICER 9008 Smoothie Maker, Nut Grinder, SLOW JUICER
$226.00 $338.00
This product ships within the same or following business day.
This is your best buy in Vertical juicers. It includes features not found in any other vertical or other juicer. They are open stock with full one year warranty. All units are new and not used ever. We are the importer and also perform service.
The *NEW* JUICE ALL MULTI Vert, Model 9008 Juicer,(This juicer is also sold by us as: GREENIS) low speed squeezing juicer system, slowly squeezes fresh juice from fruits, vegetables and leafy greens. This masticating low speed system processes at 65RPM preventing oxidation.  Nutrients are preserved and maintained for up to 72 hours without degradation. With the larger feed chute you spend less time slicing and prepping your produce.  The all new JUICER ALLREMOVEABLE TAP AND MIXING FUNCTION lets you juice all ingredients and fill the juice bowl with your favorite juice mixture. Once all food is juiced, you simply open the  tap and release the mixed juice into your glass.  With the automatic pulp ejection, you can juice continuously.
During the juicing process, the AUTO-CLEANING system keeps the screen clear, increasing the machines efficiency.  After you are finished juicing, the AUTO-CLEANING system minimizes the clean-up process.  Simply close the juice tap, fill the bowl with water.  The auto cleaning spinning brush cleans the juicer bowl.  Then you simply open the tap and release.  Continue this process until the water in the bowl is clear.
The vertical design is compact, contemporary and productive.  With the JUICE ALL Juicer form and function combine to give you the highest degree of extraction and the healthiest possible juice. Unlike other juicers the juice made with the

JUICE ALL MULTI JUICER

 will not separate quickly, leaving the pulp on top and water on the bottom. The JUICE ALL VERT Juicer is the newest and ONLY juicer that comes with a Fine Screen, Coarse Screen, Blank holeless Screen, Tofu Making Box and Removeable Smoothie Maker and Foam Reducing Tap.
Features in detail not found in any other slow speed vertical juicer (All items below included in your purchase)
Fine Screan: This is the only screen in most juicers and is used in normal juicing of greens and hard vegetables. I usually remind people that the pulp can be useful too. Use it in making soups, sprinkling it on salads or on sandwiches.
Coarse Sreen or large hole Screen:

This allows you to have more pulp in your juice. This is particularly useful when juicing soft fruit. You can always dilute the thicker juice with ice water or cranberry juice. People will often buy a blender to accomplish this. Attaching the tap allows you to mix everything in the bowl and then releasing it.
Blank Holeless Screen and Nut Butter maker:

This is a really unique addition. It is wonderful for making peanut butter or other butters, which may require the addition of some oil. Baby foods are ground up in a jiffy. For cereals grind up Almonds, Cashews, Walnuts, Pecans and some Raisins or Cranberries. Add this flake like mix to to your Oatmeal or any cereal making it so much healthier and increasing the protein level. Great if on a reducing diet. It will satisfy you for hours. Nut & Fruit bar: Mix 25% dry roasted Penuts, 20% Cranberries or Raisins, add anything you want such as Sunflower Seeds, Tamari Almonds, Cashews, Walnuts, Pecans, Pumpkin seeds, Filberts etc. mix thoroughly and slowly feed it into the feeding tube. Have a dinner plate handy because it will arrive through the pulp shute, perfectly formed in a shape of a nut bar. There will be no added sugar in this bar, and will serve as an extremely healthy snack, again great for appeasing your appetite. Did I mention  Baby food?Mix all your fruits and veggies together and just feed it through the juicers. The result will be healthy and tasty food. It all depends on what you put into it. Using this screen all ingredients come out of the pulp spout only. Don't grind grains. The sensor will stop the motor.
Removable Smoothie maker and Foam reducing Tap:

This uniquely designed tap

 let's you mix all your ingredient in the juice bowl, and when all are mixed, open the tap and you have your ready mixed juice

. Using the right fruit and vegetable groups result in a great drink. Add ice cubes to taste afterwards in the juice.

Use this tap too when cleaning the juicer. Close the tap, pour water into the bowl and release the tap and repeat if necessary.

This feature will cost you up to $50.00 extra in the Hurom and Omega juicers.
Tofu Making Kit:

Again you don't see this supplied free with any other juicer. It makes the JUICE ALL MULTI so much more useful. It is easy to make, just soak the beans for about eight hour in plenty of water. Pour the water off and add about 3 times the amount of fresh water and feed it through your juicer, boil this mix for about 30 minutes, then put it in your kit. Look on utube and you will find more demonstrations.
Unique Features exclusive to the JUICE ALL MULTI VERT Juicer
More Juice:You get more juice out of the JUICE ALL MULTI due to its patented dualstage "Slow Squeezing System" technology that works like a mortar and pestle. "Slow" only refers to the slow rotation, but juice comes out fast.

Proven to keep more vitamins and minerals intact because there is no heat and less friction/damage during the juicing process, and also minimizes damage to live enzymes.

More Vitamins:
More Value:The silent and compact Juice all multi vertical  Slow Juicer/Smoothie Maker is an energy-efficient gourmet machine that juices fresh fruits, vegetables, leafy greens, wheatgrass, nuts, and soy. Whether you want to make juices or smoothies, cook with the pulp, or make homemade sauces, marinades, or baby food, this juicer has the flexibility to make it all.
Specifications:
150 Watt, 65 RPM AC Induction Motor

Patented Dual Stage process with continuous juice extraction

Quiet operation

Nesting juice and pulp containers spinning brush

Recessed metallic grey and white carrying handle

Sleek new design in Silver/Grey & Black Finish

2 Ultem strainers for juice and smoothies (coarse, fine & blank)

Two advanced black cleaning brushes

Advanced Self-cleaning feature

Removeable Tap for Smoothies and de-foaming.

Removable funnel

Smoothie capability

100% BPA-free

Easy to use and easy to clean with minimal parts and no sharp blades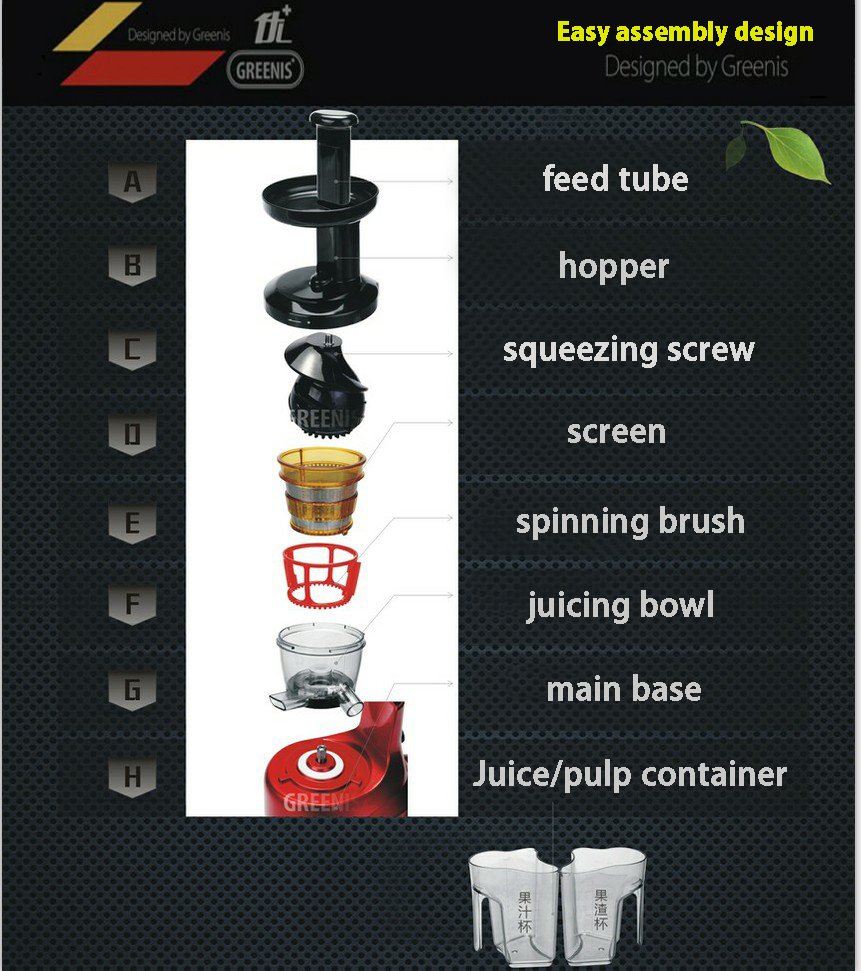 Ease of service: Juicers4life a division of HEALTH SERVICE CENTRE Inc will look after you right here in Toronto, just like we do for the ANGEL JUICER and the Blend  ALL.
Full one year warranty
We are the Canadian distributor for these fine appliances. We have been in business since 1960
Dealerships for the Angel Juicers, Juice All Multi Vert & Blend All High Performance Blender available. Call Rodney.