Not sure what to buy?
ASK RODNEY
Lexen Manual Healthy Wheatgrass Juicer
$60.00 $76.00
This product ships within the same or following business day.
Lexen Manual Juicer also known as the Easy Health Manual Wheatgrass Juicer, is a great value, super light compact manual juicer recommend for juicing wheatgrass, sprouts, herbs and leafy greens. It makes an ideal travel juicer weighting less than 1kg.
It works by crushing the fibre to extract the juice, effectively cold pressing the produce to preserve the natural flavour and nutrients. The Lexen Manual Juicer is remarkably sturdy, efficient, and best of all, easy to use! The juicer takes just minutes to disassemble and clean. Simply rinse the parts with warm soapy water
The Lexen Manual Juicer attaches to smooth surfaces using a strong suction disc, or to any work surface using a sturdy stainless steel clamp for extra stability
Key Features
Easy to assemble and clean
No electricity required!
Masticating juicing process preserves more nutrients than the centrifugal process
Simple, quiet and robust
Stainless steel tipped polycarbonate auger and stainless steel lined drum cap for extra durability and juicing power
Clear drum lets you see the juicing process in action
Portable and lightweight - at less than 1 kg can easily be taken with you when you travel
Base locks onto any smooth surface with a suction strength of 50kg
Dimensions LxWxH: 30 x 10 x 19mm (12 x 4 x 7í«_ inches)
12 month warranty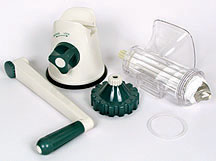 Do not be misled by the low price of the Lexen Healthy Juicer. All parts of the Lexen manual juicer are made of tough Polycarbonate (Lexan) which is practically indestructible. The parts of the juicer that receives the most force (the tip of auger and the inside of the end cap) are made of stainless steel. All materials used in the Healthy juicer are FDA approved.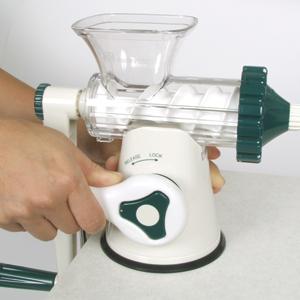 The new improved combination clamp and suction base attaches to almost any surface.The patented suction base is rated at over 45kg of force. It securely attaches to any smooth kitchen counter or table. The sturdy chrome plated corrosion free metal clamp can be used by itself or along with the suction base.


---