Not sure what to buy?
ASK RODNEY
Excalibur Food Dehydrator 3926TB Black with built-in Timer, 9 Tray
$379.95 $429.95
This product ships within the same or following business day.
Product Description: Juicers 4 Life model 3926T Timer Model in a Black on Black color! Enjoy a white door with your white dehydrator - not even available from Excalibur directly. White on white simply looks better on your counter than any other color.

Why the Excalibur Dehydrator? The Excalibur 3926T Offers the Turbo Charged Parallexx Drying System, and millions have rediscovered the benefits of food dehydration. For centuries food has been dried in the sun or open air - a lengthy, messy and difficult process inviting contamination and spoilage. Excalibur pioneered a rear-mounted equipment package allowing horizontal or parallel air flow...The Parallexx System.
The Parallexx design, with a temperature controlled, fan forced, horizontal drying system mounted in the rear is exclusive to the 3000 Series. With 20 years of manufacturing excellence, the Excalibur Food Dehydrator sets the industry standard for design, quality, and dependability. The Excalibur 3926T includes Adjustable Thermostat (85-155 degrees), 26 hour timer, Heavy-Duty Fan, Durable American Made and assembled in the United States. All electrical controls are mounted on a steel plate at the rear and each tray receives its own air.
All trays are made of a durable polycarbonate. Unbreakable and dishwasher safe. Drips and spills can easily be cleaned because all electrical controls are located on the back wall of the Excalibur 3926T and not the bottom of the dehydrator.
The Excalibur timer can be set to operate your Excalibur dehydrator from one hour up to TWENTY-SIX HOURS and will turn it off at the end of the time period that you've selected. This makes it easy to incorporate dehydrating activities around your schedule. Your Excalibur will turn itself off while you're sleeping and when you are away. No more baby-sitting at 4:30 a.m. No more postponing dehydrating because other activities take you away from home for a number of hours.
With the included timer and Excalibur's built-in safety features, you can load it before leaving for the day or evening. The timer makes dehydrating as convenient as using a slow cooker for unattended meal preparation.
The Excalibur 3926T Features include:
UPGRADED MOTOR - Last 20+ years of continuous 24 hour per day, every day use due to its use of higher quality components, more copper and tighter motor windings versus Economy Series
UPGRADED THERMOSTAT - will last 5 times as long as Economy series
UPGRADED PLASTICS - Case made of Noryl and trays made of Food Grade Polypropylene #5
UPGRADED WARRANTY - 10 Year Factory Warranty
Includes a 26-hour Timer. Set the dehydrator to run for 1 to 26 hours. The unit will automatically shut-off after set time is complete
Very fast drying times (no tray rotation needed)
Square trays are easier to load as opposed to round trays
Easy cleanup, bottom is seamless so you just wipe up drips
Door lifts off for loading and cleaning
The Parallexx System horizontal airflow for maximum drying efficiency
Thermostatically controlled temperature (range 85-155 degrees)
Use less trays for more space between trays (larger items)
Non-Stick sheets can be used for liquid puree to make fruit leathers
EXCALIBUR 3926T USES INCLUDE:
Vegetables (all types)
Fruit Leathers (fruit roll ups)
Jerky (both beef and game, needs to be lean for best results)
Fruits (all types)
Fish
Herbs
Raising Breads
Includes the Preserve it Naturally Book! A value of $24.95.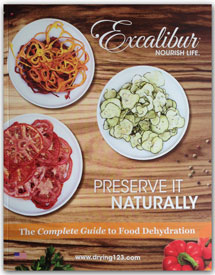 This is the New 4th Edition, updated layout.

8 1/2" x 11", 192 pages

Excalibur wrote and photographed this beautiful all-color book: This is THE book on dehydrating! Everything you wanted to know about dehydration and more can be found in this informative book.
Chapters on fruits, vegetables, meats, fish, herbs, nuts, grains, dairy products, crafts, cake decorating, potpourri, sachets, macrame beads, dough art, wreaths, raw and living foods and much more.
Recipes for raw foods, hot/cold appetizers, soups, salads, main/side dishes, sauces, beverages, desserts, snacks, trail mixes, breads, and more.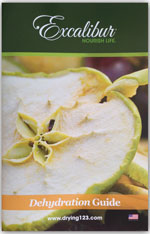 Includes the Dehydration Guide! A value of $6.95.

Handy 5 1/2" x 8 1/2" 28-page booklet is a complete guide to dehydrating. Packed with food preparation tips, reconstitution, complete 'how to' drying guide for 50 fruits and vegetables plus fruit rolls, jerky, yogurt, living foods, fruits & more. Illustrated. Soft cover.


The Excalibur ® is the finest dehydrator made. It is the ONLY machine with the unique Parallexx™ Horizontal Airflow Drying System. Hundreds of thousands of gardeners, Raw Food enthusiasts, health-minded folks, and families say,

All orders can be picked up at our Health Store at 971 Bloor St W. at Dovercourt, Ossington subway