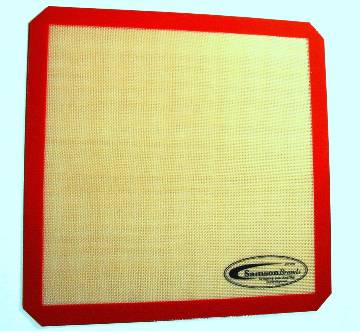 Not sure what to buy?
ASK RODNEY
Samson 3-Pack of Premium Silicone 14x14 Dehydrator Sheets
$24.99
This product ships within the same or following business day.
Fits Excalibur, L'Equip, Sedona, GooD4U Dehydrators.
Features:
Made from durable, Food-Grade silicone
Provides for a non-stick surface for easy movement and dehydrated product removal.
Won't move around in the tray
No need for oil, cooking sprays, or parchment paper
Designed to fit 14" x 14" Dehydrator Tray
Flexible sheets provide easy maneuvering, compact storage
Reusable many times
Oven and Dehydrator Safe - For use up to 500 Deg. Fahrenheit
Use on Countertop of dough preparation
NOT for use in Open Flame situations
Transfers heat uniformly for consistent results.
Easy Clean-Up - Top Shelf dishwasher safe, or hand wash with soap and water and air dry
Specifications:
Dimensions - 14 1/8" x 14 1/8"
Weight - 4.2 Oz each sheet
Thickness - 0.12 MM
Temperature Range -94 Deg F to +500 Deg F
UPC - 609722995436
Certified Food Contact Safe FDA, LFGB approval