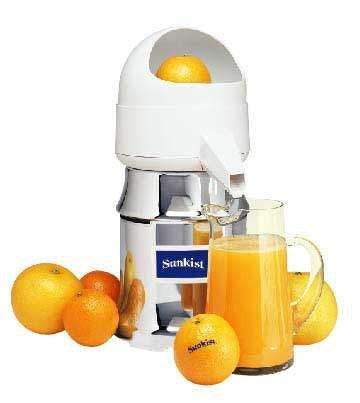 Not sure what to buy?
ASK RODNEY
Sunkist Model J1 Commercial Citrus Juicer
$1,199.00 $1,400.00
This product ships within the same or following business day.
A commercial juicer that endures extended daily usage. Features a metal oscillating strainer to better separate the juice from the pulp so you get more juice from each piece of citrus. An operator can easily extract between 10-12 gallons of juice per hour using pre-cut citrus. Comes with three extracting bulbs with metal inserts (one each for lemon/lime, orange and grapefruit). Our juicer weighs a hefty 31 pounds so it won't walk across the counter during use. Has a quiet yet heavy-duty motor for years of dependable, trouble-free operation. Housed in gleaming, chrome-plated steel. Dome, spout and bowl support are made of a strong corrosion-proof white plastic. All removable parts can be sanitized in the dishwasher for a quick and easy cleanup. Extremely safe to use and listed by Underwriters Laboratories, NSF International, CSA International, and VDE (Germany). Also approved for use in Europe. Two-year warranty.

Juicer Tips
Cut all needed citrus in half between the stem ends before beginning the juicing operation.
Turn on the juicer and leave running until the juice has been extracted from all citrus halves.
Grasp the citrus half about 3/4 of the way down from the top of the fruit. Hold firmly on rotating extracting bulb, until all juice is extracted. Remove fruit peel and repeat.
It only takes a few seconds to get all the juice from the citrus half. Don't over extract or the bitter tasting albedo will be in your product.
Always empty strainer when it is 3/4 full or less, and clean the bowl support.
Motor never needs oiling; bearings are grease sealed.
Specifications:
Motor: 1750 RPM, 1/4 HP
Easy to clean
Corrosion Proof Plastic
Easy to use
Completely safe
Dimensions: 17" h x 8" d
2 Year Warranty
Comes with 3 cone sizes, (Lime, Orange, Grapefruit)
Includes instructions and fact booklet
Weight: 31 Lbs.
Related products