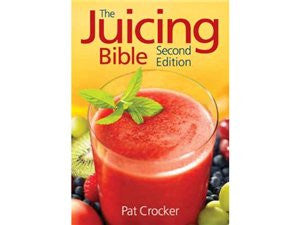 Not sure what to buy?
ASK RODNEY
The Juicing Bible Second Edition
$27.95 $30.95
This product ships within the same or following business day.
This new edition of a beloved best-seller features 100 brand new recipies, now bringing the total number to 350. In addition, it offers new pages of health information, including a "healthy body systems" section that provides information on the critically important cardiovascular and immune systems. Any health-conscious person can now readily optimize the selections and combinations of prescriptive juices, which are thoroughly cross-referenced. Unchanged is the most popular section of the book, which addresses more than 80 common health conditions.Some of the new juicing recipes from the "heart-healthy" section are: Deep orange heart -- a tantalizing combination of mango, cantaloupe, apricot and orange Strawberry sparkle -- a wonderful blend of strawberries, pomegranate, raspberries and cranberry juice Orange sunrise -- a mix of orange, kiwi, papaya and carrot... a glorious way to greet the day Melon mania -- a tasty blend of cantaloupe, honeydew, watermelon and orange.With health tips, preparation techniques, helpful sidebars and 16 pages of color photographs, this new edition of The Juicing Bible is packed with information that is essential for anyone who wants to explore all the nutritional benefits that natural foods can provide.