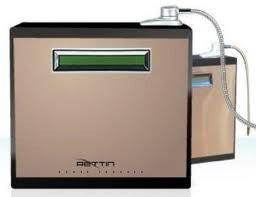 Not sure what to buy?
ASK RODNEY
TYENT RETTIN MMP-9090 TURBO EXTREME WATER IONIZERS
$2,439.00 $2,702.00
This product ships within the same or following business day.
TYENT MMP-9090 TURBO EXTREME WATER IONIZERS

puts Tyent on top of all other water ionizers on the market today.  The MMP-9090 has all the features and capabilities of the MMP-7070 Turbo, but it adds 2 more ionization plates for a total of 9 plates and boosts the power by 15 watts to 300!
The Tyent MMP-9090 Turbo Extreme Water Ionizer allows you to take advantage of the many health benefits of ionized drinking water and also produce chemical-free " Super Water" with it's Turbo function.  Other water ionizers simply do not have enough power to create these super waters from 2.0 to 12.0 PH.  With 300 watts of power, the turbo  mode allows you to create strongly acidic or strongly alkaline water for use in sterilizing, cleaning, and disinfecting.  Of course, the MMP-9090 Turbo can easily produce the same
healthy ionized drinking water

in addition to the " Super Water" , which should be used for cleaning only.
This model has become the top water ionizer on the market because of its:
Nine plates, each thicker than the competition.

300 watts of power.

Lifetime warranty.

Advanced automatic electrolytic tank washing.

Largest filters in the industry.

Real stainless steel front
Features of the Tyent MMP-9090 Extreme Turbo Water ionizer include:
Easy Controls and Seven Color LCD Display:  Water flow is started and stopped with one touch of a button.  Seven color display.

Fully Automatic Control System: Optimum parameters are automatically sellected by the advanced CPU which gauges water quality and quantity.

RTR (Real Time Refresh) Automatic Washing: By keeping the electrolytic tank clean with the automatic RTR washing system, electrolytic capacity is maintained.

Filter Change Display:  Voice message and LCD icons indicate filter changes.
Voice Warnings and Guides: Safety and proper usage is assured through voice feedback.
Automatic Safety Testing:  Safety tests are automatically conducted following installation. Voice function alerts you of improper setup.
Duel Phi Water Purifier Filtration: Purified water from the MMP-9090 Turbo Extreme  1st and 2nd stage filters.
Electrolytic Tank Anti-Virus System:  Automatic cleaning system prevents propagation of microorganisms.
Automatic Incoming Water Flow:  Flow of incoming water is controlled to prevent too much water from entering the unit.  This prevents loss of effectiveness,
Platinum and Titanium Electrodes: Use of advanced materials increases effectiveness and life.

SMS Power Supply:  The first automatically controllable SMS power supplier in the industry.  Safe function is assured through CPU monitoring of the power provided to each part of the unit.

Automatically Water Shut-off:  Overflow is prevented by automatically stopping water flow after five minutes.

Custom LCD Display: The seven color icon display assures ease of use.
The Korea Food and Drug Administration (KFDA) has registered the Taeyounghe E& T's Water Ionizer as " Medicinal Substance-Producing Equipment" .

Weight: 12.33 lbs.
Dimensions: 15.75" x 4.55" x 16.38"

Primary Filter: ACF activated carbon fiber.
Secondary Filter: ACF activated carbon, Ceramic